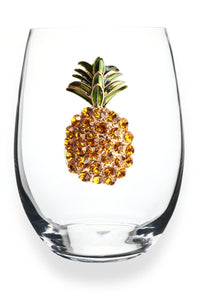 The Pineapple symbolizes welcome, good cheer, warmth, affection between all who dwell inside the home.
Be a Pineapple. Stand Tall. Wear a Crown and be sweet on the inside.
Hand wash only, please.

19 oz
Dimensions: 4.25 × 4.25 × 6 in
Crafted by hand with love in the heart of the Midwest – St. Louis, Missouri – The Queens' Jewels is an exquisite collection of jeweled glassware. The Queens' Jewels was founded upon the idea that wine glasses should never be plain or boring, but rather, beautiful and full of sparkle to complement all of life's most special occasions. Our sought-after glasses are designed to uniquely represent individual personalities, celebrate moments in time, spark smiles and conversation, and to be given as gifts to be treasured forever.