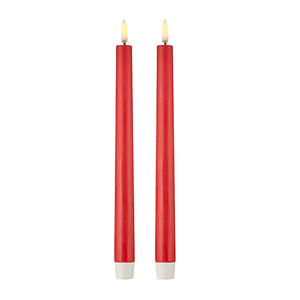 Uyuni Candles combine the finest Danish design elegance along with a new unique patented flame technology. You must see this new flameless candle line to appreciate the quality. The real wax surface of Uyuni Candles adds to the candlelight ambience, but without any of the harmful chemicals that are released by regular wax candles.  Each candle comes boxed & is perfect for gifting. 
The optional remote control (sold separately) is required for the dimming and multiple timer features.
Set of 2 Red Taper Candles
Made from virgin unscented paraffin wax
Warm-white LEDs
Patented 3D Flame
Requires 2 AAA Batteries (not included)
Dimmable - 3 brightness levels with remote
Standard 6 hour timer feature - On 6 hours Off 18 Hours
4 | 6 | 8 | 10 hour-timer - When used with the remote control
On | off control of all candles at once -When using the remote control
Can be used with Remote Sold Separately
Battery Life Approx 200 Hours
Uyuni Candles can be turned on and off or dimmed by remote control, with timer options of 4, 6, 8 or 10 hours. There is also a 6-hour manual timer switch under each candle to control your lighting and to conserve battery life.
Safety for your family is assured as Uyuni Candles can be left unattended as they do not present a fire hazard, and are safe around children and pets.