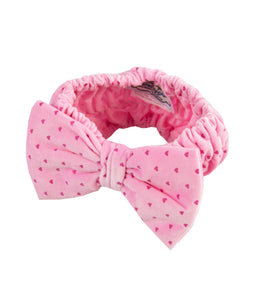 Pretty, practical vintage design with big, beautiful bow
Dark pink hearts on pale pink towelling
Kind to those luscious locks
Machine wash warm to keep looking sweet
Slip over your head and down to your neck, then free up any hair trapped beneath.
Pull back up and over your hairline, with the bouncy bow on top or angled – so sweet!
Keep by machine washing and hanging up to air-dry.