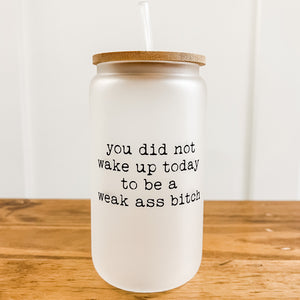 You Did Not Wake Up Today To Be A Weak Ass Bitch!!  This is our version of an inspirational quote.  There's nothing you can't do!
Our Frosted Can Glasses are the perfect glass for any beverage!  Our favorites are iced coffee, smoothies, cocktails, margaritas and sangria.  The bamboo lid seals tight so you can have your drink on-the-go.  
Beer Can Glass Shape
16 oz Frosted Glass 
Comes with a Bamboo Lid and Straw
The design is professionally heat pressed to the glass (not vinyl) but must be hand washed
NOT dishwasher or microwave safe
Hand Wash Only
Be sure to hand wash & dry bamboo lid immediately
 All glasses ordered online are made-to-order. Please allow 3 days for pick-up or shipping.