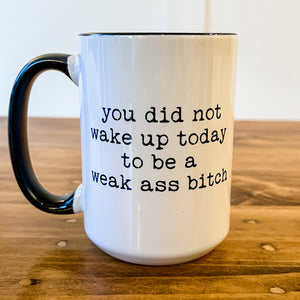 You Did Not Wake Up Today To Be A Weak Ass Bitch!!  This is our version of an inspirational quote.  There is nothing you can't do!
Holds a Full 15oz of your Fave Hot Beverage 
Double Sided Print
Ceramic Black Handle with Black Rim
Dishwasher and Microwave Safe
 All glasses and mugs ordered online are made-to-order. Please allow 3 days for pick-up or shipping.